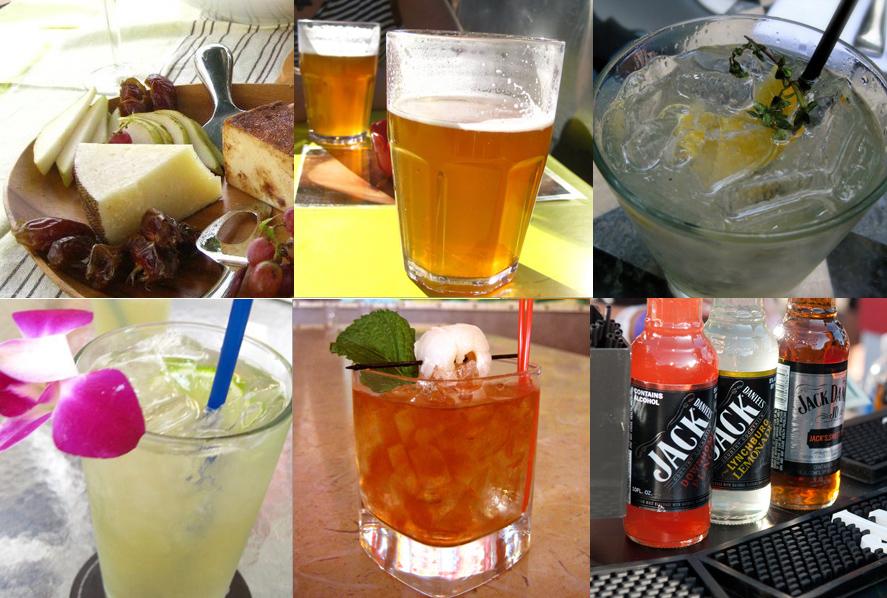 Celebrate the changing season with a pleathora of new events on The Sunset Strip, including fall-inspired menu items, weekly jazz and DJ series, seasonal cocktails and shopping discounts.
"riothouseREPLAY" DJ Series
RH at Andaz West Hollywood is launching a weekly DJ session every Thursday night, starting Nov. 18. The sessions include drink specials (a weekly $9 "riothouseREPLAY" cocktail, $7 beers, $12 seasonal cocktails) as well as gourmet bar bites priced from $6-$9 (options include portabella mushroom sliders, duck drumette confit, macaroons). Guests can Tweet DJ requests to @RHweho throughout the night. www.andazwesthollywood.com
Fireside Drinks and Bites on The Rooftop
Cozy up by The London West Hollywood's rooftop fire pit for stunning views of the Los Angeles skyline while enjoying a special menu of desserts and hot beverages. The fireside bites menu includes pumpkin soufflé with gingerbread, marshmallow and chocolate truffles with graham cracker sauce, peanut brittle cookies and baked brie cheese for two. Warm up with cocktails including spiked fall cider, choco-mint toddy (Kahlua Mocha, Bailey's chocolate mint, whipped cream and semi sweet chocolate shavings), hot buttered apple cider. Daily beginning November 19 from 5-9 p.m. www.thelondonwesthollywood.com
The London After Five Live Jazz & Cocktails
Stop by The London Bar Monday through Friday for $5 cocktails and appetizers from 5-7 p.m. On Tuesday, Thursday and Friday nights, you can also enjoy live jazz performances from 6-9 p.m. $5 valet parking also available during The London After Five. www.thelondonwesthollywood.com
Seasonal Desserts at Buttercake Bakery
Put in your orders for twists on seasonal favorites, including apple caramel cake (serves 10-12, $25), pecan tarts (serves 6-8 or 12-14, $18-$28), pumpkin cheesecake with a gingerbread crust (serves 12-15, $25), pumpkin cupcakes with cream cheese frosting ($2.75) and pumpkin whoopie pies ($2.75). www.buttercakebakery.com
Seasonal, Fall Menu Additions at RH
RH's new fall menu greets guests with options that underscore the restaurant's signature, fresh market-to-table approach as well as Chef Sebastian Archambault's desire to serve simple yet excellent dishes with ingredients sourced from local organic farms. Some of the new fall items include starters perigord fall white bean soup, Huntington pork and Petaluma chicken liver terrine, and oysters kumamoto; entrees traditional Perigord Cassoulet (rich, slow-cooked white bean stew casserole with chef's secret combination of seasonings and meats – duck confit, pork sausage, pork belly), Charentes' chaudree fish stew with rockfish, shrimp, mussels, clams, squid, baby heirloom potatoes and fish broth, and half Grimaud Farm moscovy duck with roasted breast and braised leg served with port wine baked mission fig and sautéed field mushrooms.
www.andazwesthollywood.com
November – December
Tobi Tobin Upholstery Sale
Receive a 15% discount on all upholstery furniture at Tobi Tobin during November and December. www.tobitobindesign.com
Nov. 20
"Pre-Black Friday Trunk Show" at LIVE! On Sunset
Shop, eat and drink on Saturday, Nov. 20 as LIVE! On Sunset gives you a sneak peak at the fabulous steals they're offering on Friday, Nov. 26. Enjoy 15% discounts during the trunk show as well as giveaways for attendees. Trunk show is 1 – 5 p.m. www.liveonsunset.com
Nov. 20
Holiday Dishes: Family Dinner Master Class at Gordon Ramsay at The London West Hollywood
Hosting Thanksgiving dinner this year? Don't fret. Gordon Ramsay at The London West Hollywood's Master Class series will teach you how to create an unforgettable holiday dinner. Learn how to create roasted prime rib with a port wine sauce, potato gratin, winter salad of apples and a chocolate soufflé. The class begins with champagne, canapés and a tour of the award-winning kitchen. Then menus are prepared and demonstrated course-by-course. Each dish is served in the kitchen as it's completed, accompanied by paired wine or beer chosen by the sommelier. The class includes a signature Gordon Ramsay butcher's apron, copies of all recipes, and a copy of Gordon Ramsay's "Healthy Appetite" cookbook. Price is $190 per person, or $350 per couple. www.thelondonwesthollywood.com
Nov. 24
Talib Kweli Free Concert & Charity Drive
Talib Kweli is taking over the entire Roxy (even On the Rox) for his "Gutter Rainbows" record release show. And in the spirit of giving, the show is FREE! Here's how you get in: Starting Thursday, Nov. 18, bring a blanket, scarf, or gloves to The Roxy. You will receive a ticket, however, this does not guarantee entrance. Admittance will be first come, first served until capacity is filled. www.theroxyonsunset.com
Nov. 26
Shopping Event Benefitting LA Regional Food Bank
The Nicole Miller Los Angeles boutique will host an all-day, exclusive shopping event on Black Friday to benefit the Los Angeles Regional Foodbank. Guests will be able to shop for their perfect holiday season styles and 15% of the entire day's proceeds will be donated to the Los Angeles Foodbank to help feed the hungry. Event from 11 a.m. – 7 p.m. 2010 marks the Foodbank's 37th year of service to the residents of Los Angeles County. Today the Foodbank provides food for nearly 900 member agency sites including abused and abandoned children homes, battered women shelters, senior centers, local food pantries, soup kitchens, AIDS hospices and more. In 2009, the Foodbank distributed 54 million pounds of food for the hungry in Los Angeles County. www.nicolemiller.com
Nov. 26
Black Friday Shopping Discounts at Zadig & Voltaire
20% discount on all items during "Black Friday," Nov. 26. www.zadig-et-voltaire.com
Nov. 26
Code C Discounts
Receive discounts ranging from 30% – 50% on Vivienne Westwood, Dsquared, Viktor & Rolf at Code C beginning Friday, Nov. 26. www.codecusa.com
Dec. 2, 3 & 4
"Chef Swap" at RH at Andaz
Chef Sebastien Archambault of RH at Andaz West Hollywood and Chef Mollie Ahlstrand of Trattoria Mollie in Santa Barbara, CA will swap kitchens and cook up tasting menus showcasing dishes that have made their restaurants hits amongst foodies and critics alike. The RH/Trattoria Mollie chef swap will give gastronomes the chance to savor Chef Sebastien's Southwestern French cuisine, while RH diners can enjoy the Italian fare that named Trattoria Mollie one of the "Ten Best Destination & Special Restaurants in the World" in National Geographic. Menu highlights prepared by Chef Mollie at RH include: Crostini ai Funghi, Ossobuco con Verdura and Panna Cotta. www.andazwesthollywood.com
For a listing of nightly events on The Sunset Strip, visit the calendar located on the homepage.