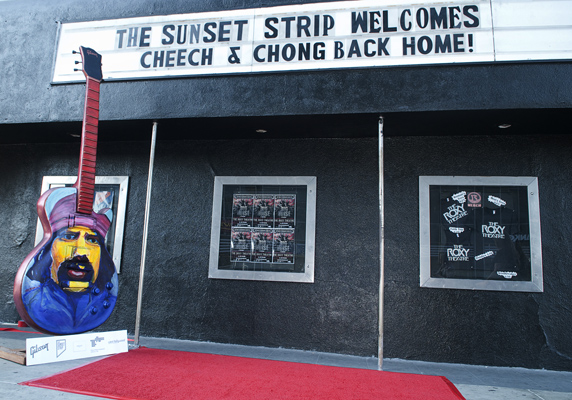 There's no such thing as an ordinary Tuesday on The Sunset Strip. Yesterday, Nov. 16, was a testament to this fact as iconic comedy duo Cheech & Chong rolled up to The Roxy Theatre to sign a 10-foot tall art guitar created to celebrate their careers. A surreal and fun mid-day break indeed.
The larger-than-life guitar was created by award-winning artist Margaret Garcia as part of GuitarTown Sunset Strip, a public art exhibit that features 26 guitars placed along the boulevard.
Cheech & Chong started their career performing in West Hollywood's The Troubadour as well as The Roxy Theatre (which was featured in "Up In Smoke") and The Comedy Store. Each side of the guitar is dedicated to a portrait of Cheech Marin and Tommy Chong. The guitar also pays tribute to The Sunset Strip's role in developing comedy as well as music.
Garcia's work is saturated with a wildly expressive palette, and the flat compositional space is firmly rooted in the tradition of Mexican folk art.
"I define Chicano art by making it," she says. "My work is personal and also embraces the cultural common ground of my community and the history of Los Angeles."
Her paintings are currently in the collections of LACMA, the Laguna Art Museum and the personal collection of Cheech Marin.
You can view the Cheech & Chong guitar at its current home, located outside of The Comedy Store.
Photos courtesy of Andrew Herrold.
–C. Kemp