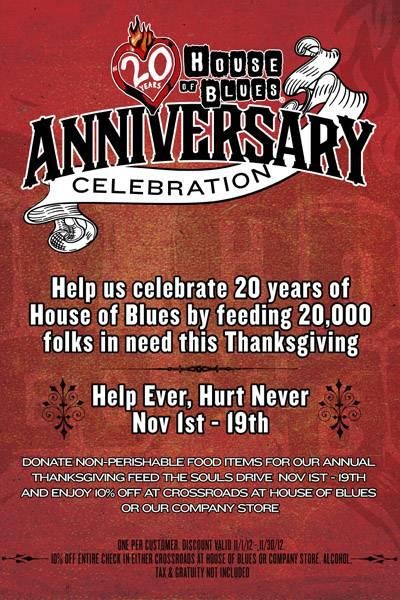 House of Blues Sunset Strip will continue its annual tradition of providing Thanksgiving meals to those in need this year by participating in "Feed the Souls," a nationwide campaign to provide 20,000 meals across all 12 House of Blues venues.
In celebration of House of Blues 20th anniversary this year, House of Blues Sunset Strip is holding a food drive now through Nov. 19. During this time, non-perishable food items can be brought to the Box Office, and in exchange of gratitude, patrons will receive a voucher good for 10% off at Crossroads at House of Blues restaurant or to use in the company store.
The food drive will benefit food kitchens, shelters and charities throughout Los Angeles, including Children's Lifesaving Organization, Westside Coalition and Love Lifted Ministries.
In addition to the food drive, House of Blues Sunset Strip will open its doors at 10 a.m. on Nov. 22 to host their annual Thanksgiving meal for those in need. Seatings will take place in the Music Hall as well as in Crossroads at House of Blues. Guests will be treated to a traditional Thanksgiving feast and live entertainment provided by the House of Blues Gospel Band.
"Our tradition of feeding the needy on Thanksgiving is a long-standing one that is embedded in the culture of our family," noted House of Blues general manager Dave Meyers. "There is no better feeling than giving back to the community and doing something extremely special that has such a great impact on other's lives. This is a special day for everyone at House of Blues."
For more information about the event and House of Blues Sunset Strip, please visit www.hob.com/losangeles or www.facebook.com/HOBsunset.