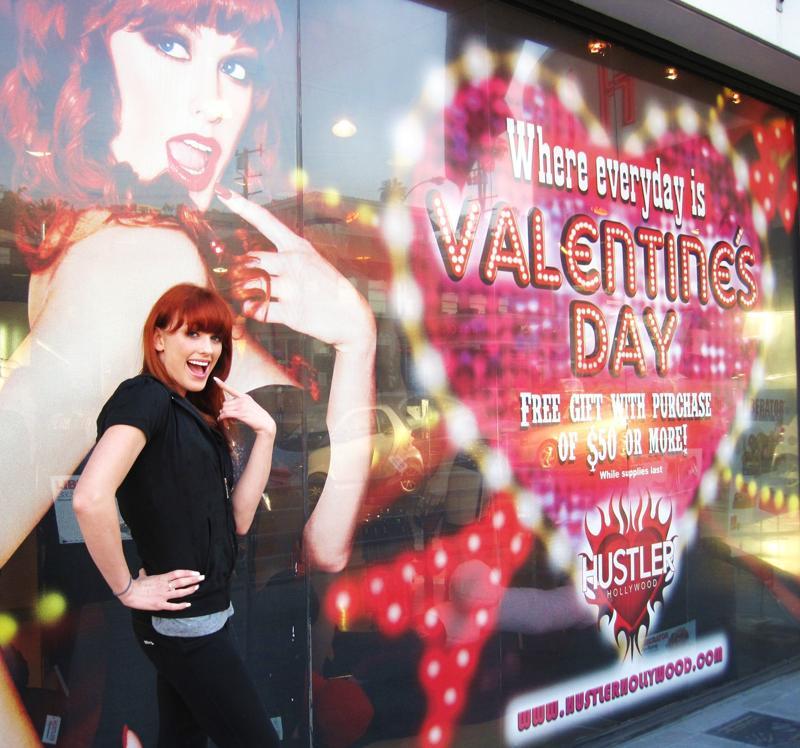 Who's that girl in the window!? No doubt many Sunset Strip commuters have pondered this question while driving past the newest suggestive window display at Hustler Hollywood. The gorgeous redhead in question, model Virginia Mae, has recently received tons of exposure with her image plastered on the storefront window and billboards all over town. Picking her brain on Valentine's Day, redhead-dom, and her new found fame, The Sunset Strip dream weaver shared her thoughts on all things romance.
Valentine's Day: Romantic holiday celebrating love and affection, or consumerist ploy created by the greeting card industry?
Much like Christmas or Easter, the holiday has become more and more diluted with consumerism. However, I have no problem with this, because who doesn't like chocolate and presents?
Any big V-Day plans?
Going on a hot air balloon ride with my boyfriend!
What was the last item you purchased from Hustler?
Some Leg Avenue stockings and coffee, of course. Believe it or not, they have the best coffee on The Strip.
Strangest, most awkward modeling gig/photoshoot?
Wow…too many to pick from! I've had the pleasure of witnessing everything from mental breakdowns to models getting arrested for public nudity (won't go into any details). One time, I was hired by a joint modeling agency and film production company at a major studio to sit in an office and make pretend phone calls to nonexistent clients. That was pretty shady.
Are redheads the new blonde? Has the copper top helped set you apart in the modeling world?
Natural redheads are rare in glamour modeling, probably because pale skin isn't as commercially sexy as tanned skin. I do book a lot of work because of the red hair.
Have you been recognized from your Hustler campaign yet?
A couple of times. With all the billboards and print ads, it's pretty overwhelming, the scale of this ad campaign.
Your idea of a perfect romantic evening?
A crazy night or weekend in Vegas with minimal sobriety.
Everyone has a notorious Sunset Strip story. Any good Sunset Strip-related dating stories?
I was on a "sort of date" with a girl, actually, and we stopped at the Viper Room. She got way too drunk and ended up puking on the sidewalk. It was a blessing in disguise because Joseph Holiday [singer for band Lady Sinatra] was working that night. We kept in touch, and have been dating for over a year now.
Flowers, yea or nay?
Flowers, yes! No occasion necessary. White roses are my favorite. I also really like cacti and alien-looking succulents.
Worst and/or best pick-up line?
There is no such thing as a "good" pick-up line!
Visit Hustler Hollywood now through Feb. 14 and receive a free gift with any purchase of $50 or more – while supplies last. Text "Hustler Hollywood" to 55678 and receive a special discount for being a member of Hustler's Mobile VIP Club.
Hustler Hollywood is located at 8920 Sunset Boulevard and online at www.hustlerhollywood.com. Find Virginia Mae online at www.virginia-mae.com or on Facebook and Twitter.

–Brent X Mendoza