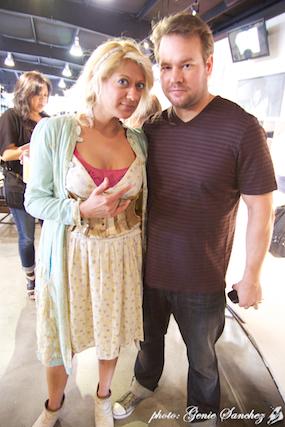 The Sunset Strip is notorious for its fashion choices just as much as it is for musical taste. From mini-skirts to guy-liner, snakeskin boots and big hair, The Strip ain't just a stage, it's a runway. This was more than true at the fashion line launch from one of The Strips familiar faces, Anyshka. Her line, AnyshkaA – By House of Anjou, is a collection of haute rock couture and one-of-kind clothing for the bohemian chic rocker sold exclusively at LIVE! On Sunset.
The collection is influenced by summertime with materials that are mainly silks, chiffons, cottons and other natural fabrics mixed and trimmed with antique and vintage borders, real gold thread and semi-precious beading sequins. The line also features other baubles and trinkets to make each piece an original work of art, finished by hand with the precision of old world couture houses.
"'AnyshkaA' is a collaboration of visions with my mom's [Anjou] fashion life and my life of rock n roll on The Sunset Strip," noted rocker/seamstress/designer Anyshka. "The idea was to bring elements of the chic out in rock n roll decadence and showcase excess and over-the-top in a rebellious, 'don't give a damn' manner. The clothes are meant to be worn with attitude yet style and polish… hearkening back to rock's glory era when fashion and rock collided. Think Rolling Stones, Beatles, Led Zeppelin…"
For more information about Anyshka's link, check out the Facebook page or visit LIVE! On Sunset.
–Genie Sanchez