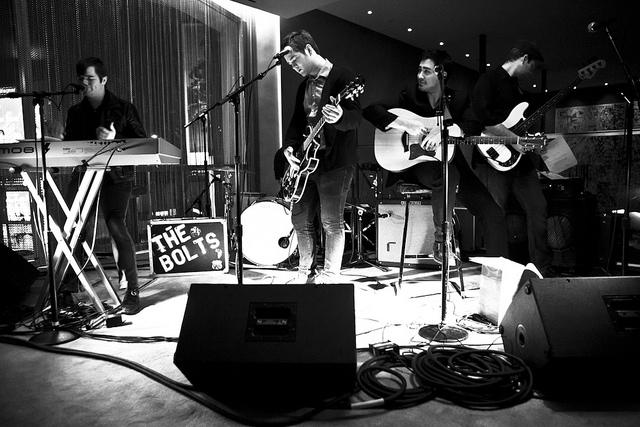 The Andaz West Hollywood hotel, formerly known as the "Riot Hyatt" for its infamous rock and roll parties and guests, has partnered with The Roxy Theatre and the Playlist Generation to unveil two new unique music programs that celebrate its music history.
The hotel recently partnered with The Roxy Theatre to launch Pillow Talk & Under the Covers Sessions this month. But don't worry. There's no sleepy "do not disturb" lullabies happening here. This monthly night of music may be acoustic, but it knows how to rock with featured bands showcasing their cover versions of classic songs from some of the iconic bands and musicians who have stayed on the property (remember The Doors, Led Zeppelin, The Who, Little Richard, John Lennon?).
Following each show, a streaming Podcast will be available at UnderTheCoverSongs.tumblr.com, which will include the performance, a "Pillow Talk" conversation with the band, and a photo gallery by local photographers.
The inaugural Under The Covers session took place Jan. 11 and featured a crowd-pleasing performance by punk-pop rockers The Bolts, who added their signature sound to hits including "This Boy" and "Twist & Shout" from The Beatles and "Are You Gonna Be My Girl" by Jet.
Continuing the music theme, Andaz has also partnered with The Playlist Generation to create special DJ nights at the property, including the Wine Down Wednesdays DJ party and happy hour. Members of The Playlist Generation have toured the world as DJs and musicians with artists like Kanye West, The Killers and The Cure. Andaz will debut spotlight DJ sessions curated by The Playlist Generation in the lobby, restaurant and rooftop pool.
For more information about Andaz West Hollywood, and to stay informed of upcoming shows and events, be sure to follow Facebook.com/AndazWestHollywood and @AndazWeHo.
Photos feature The Bolts' Under The Cover performance and "Pillow Talk" conversation at the Andaz on Jan. 11. Photos courtesy Erik Voake/ erikvoake.com