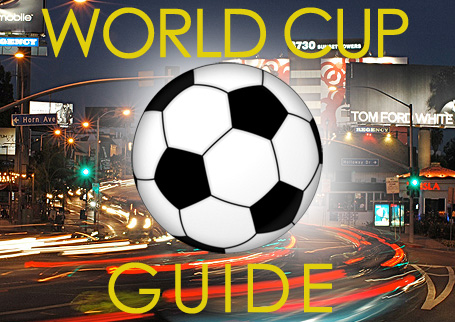 The 2010 FIFA World Cup kicks off Friday, and while Americans may not be known for their extreme soccer enthusiasm, it doesn't mean we aren't susceptible to a little World Cup fever.
Restaurants and bars along The Sunset Strip are showing the games – and offering some food and drink specials – throughout the month-long competition. So grab a seat and get ready to watch the international competition unfold!
The Olive Kitchen + Bar | www.theoliveonsunset.com
Newly opened The Olive will show games beginning at 11 a.m. Four flat screen TVs.
Borracho Cantina | www.borrachocantina.com
Running two-for-one happy hour prices on all drinks during the live broadcast of the games. Ten large flat screen TVs, including patio viewing.
Cabo Cantina | www.thecabocantina
Open at 11 a.m. Saturday for the U.S. v England game. Multiple TV screens for optimum viewing. Two-for-one happy hour from 4-7 p.m. daily.
The Den | www.thedenofhollywood.com
Open at 11:30 a.m. Several HD TVs and happy hour from noon to 7 p.m. daily.
Isla Cantina | www.islacantina.com
Open at 11 a.m. Saturday, June 12, for the USA v England match. Multiple TV screens and specials.
Mirabelle | www.mirabelleonsunset.com
Opening early for Greece's games and serving Greek appetizers and breakfast.
Red Rock | www.redrocksunset.com
Open at 11 a.m. Big screen TVs perfect for the big games and darts for those times when you need a distraction from the game. Happy hour, offering half-priced drinks, available every day from 5-7 p.m.