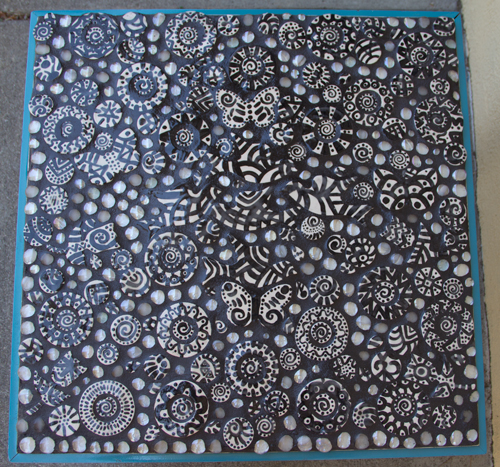 Philanthropy meets artistry this June 30, when Mel's Drive-In hosts an art exhibition featuring work from Gibson GuitarTown artist Juliana Martinez. The evening will feature a collection of her tiled, mosiac furniture from 6 – 10 p.m.
Martinez was commissioned to create two 10-foot-tall art guitars for the public art project Gibson GuitarTown on The Sunset Strip over the last two years. The first, which has since been auctioned off for charity, stood in front of The Standard hotel and celebrated the peace and love movement of the 1960s. The second, titled "There's Something Happening Here" in honor of iconic band Buffalo Springfield, is boldly displayed at the Mel's Drive-In entrance.
Juliana Martinez is a ceramic mosaic artist who was selected in 2008 to be one of an elite pool of artists commissioned by the Community Redevelopment Agency of Los Angeles (CDR/LA) to beautify complexes, entryways and streets across the city of Los Angeles. Her dedication to beauty and her art has won commendations from city and state officials, most notably Los Angeles Mayor Antonio Villarigosa.
For a catalog of Juliana's work, and for more information, photos and schedule details, visit www.julianamartinezart.com.