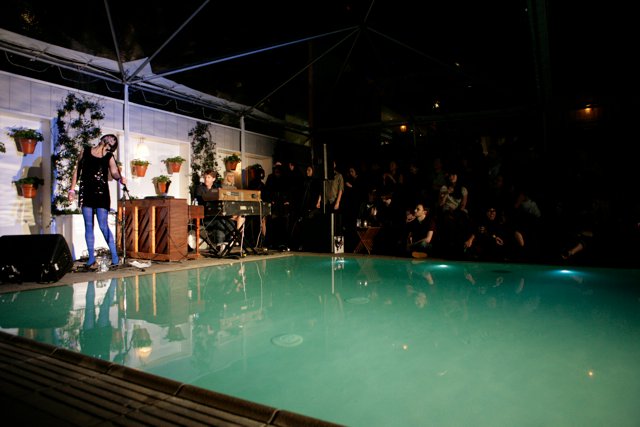 Sure, you're an expert on The Sunset Strip's legendary music venues. But did you know that one of our hotels is home to one of the hottest indie music events in town?
This fall the Mondrian hotel partnered with IAMSOUND Records to launch Mondrian Sessions, a unique night of music under the stars. The series, hosted on Skybar's rooftop pooldeck, provided attendees with an intimate outdoor setting to enjoy music from top indie artists and buzz bands, including The Bird And The Bee, Peter Moren (of Peter, Bjorn and John), Jens Lekman and Yacht. The series proved to be such a success that organizers have decided to bring it back for an encore.
The new series kicks off tonight with a performance by Francis & The Lights and rolls through the spring. The full schedule of upcoming shows includes…
Jan. 14: New York-based '80s pop throwback band Francis & The Lights
Feb. 11: L.A. natives Fool's Gold, whose sound weaves together Western pop and African rhythms
Feb. 17: Indie pop band Dum Dum Girls
Feb. 19: Rock, folk and punk fusion from Ted Leo
Feb. 26: Pseudo-gothic, electronic balladry of Zola Jesus
March 10: Swedish indie pop, electronica artist Lykee Li
March 12: Canadian musician/producer Gonzales
April 8: Experimental pop-quintet Twin Sister
Need even more incentive to get excited about this KCRW-endorsed event? It is free to attend. That's right. A full night of music and panoramic views of the city with no ticket fees!
All you have to do is RSVP in advance to skybarla@morganshotelgroup.com. And if you want to secure your spot, you can book a table at 323-848-6027. (Please note the events are ages 21 and older only.) For more info and updates about the series, follow @MondrianLA @MondrianSessions.
Photos: Mondrian Sessions with The Bird And The Bee.
Photos courtesy Sonny Gerasimowicz/Mondrian