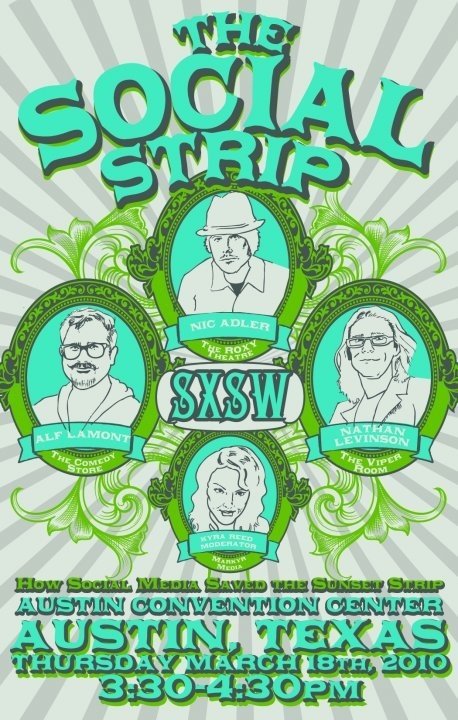 The only thing hotter than the salsa in Austin will be the collection of Sunset Strip venues showcasing talent next week during SXSW. For those headed to the Lone Star State, make sure to mark these events on your calendar.
The Comedy Store hosts a day of hilarity with a showcase on Wednesday, March 17 featuring LA-based all stars Mack Lindsay, David Taylor, Nick Youssef, Justin Martindale and Benji Alflalo. The showcase starts at 1:30 p.m. and is followed by the beyond-words karaoke experience, Karaoke Killed The Cat, at 3 p.m. Both events take place at The Rusty Spurs (405 E. 7th Street). RSVP
Get your talk on Thursday, March 18 as representatives from the Viper Room, The Roxy Theatre and The Comedy Store (otherwise known as @theVIPERroom, @TheRoxy and @TheComedyStore) discuss how social networking sites like Twitter and Facebook have helped the businesses create a relevant and thriving community on The Sunset Strip. "The Social Strip" panel begins at 3:30 p.m. at the Austin Convention Center. Want more info?
After the panel, head back to The Rusty Spurs as The Roxy presents its third annual AustinRox music showcase. Pop rockers the Crash Kings kick things off at 8 p.m., and you'll be partying till the break of dawn as Carney, Orgone, Saint Motel, She Wants Revenge and The Glitch Mob take the stage and take over Austin. RSVP
The party continues on Friday as the Viper Room and Supergoodmusic present Rooftop Riot at The Blind Pig (317 E. 6th Street). Music starts at noon and includes performances from buzz-worthy Foster The People, Imagine Dragons, Glint, Little Girls, The Binges, Steriogram, Stardeath & White Dwarfs. The always entertaining Andrew WK closes out the day at 5:10 p.m. RSVP
[ADDITIONAL EVENT: SXSW film festival also includes a screening of documentary "Lemmy," which includes interviews with Slash, Dave Grohl, Billy Bob Thornton, Metallica as they discuss this Sunset Strip legend. "Lemmy" screens Monday, March 15 .]

–C. Kemp