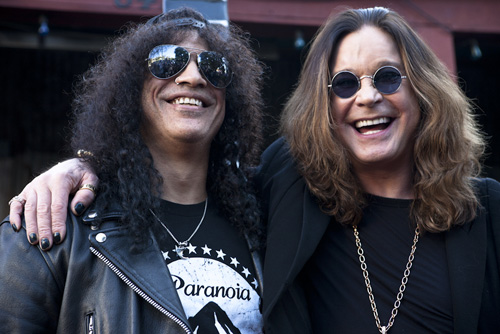 Yesterday iconic rockers and previous Sunset Strip Music Festival honorees Ozzy Osbourne and Slash returned to The Sunset Strip for a mega-guitar signing at the House of Blues Sunset Strip. The ten-foot tall art guitar was created by local photographer and artist Nic Adams to celebrate Ozzy's long career. The guitar is part of the GuitarTown public art exhibit, which features 25 additional guitars placed along the 1.6-mile boulevard.
Legendary DJ Uncle Joe Benson from KLOS was on hand to introduce Ozzy, Slash and Adams to the crowd of fans.
The signing also served to kick-off the second leg of Ozzy's U.S. tour, which launches at the Gibson Amphitheater in Los Angeles on Feb. 1. Ozzy's longtime friend and musical collaborator Slash will open the show.
The large art guitar sculptures will be auctioned for charity this fall. For more information about GuitarTown, visit www.gibson.com/sunset-strip.
Photos courtesy Erik Voake